Draw Atelier: Printmaking Term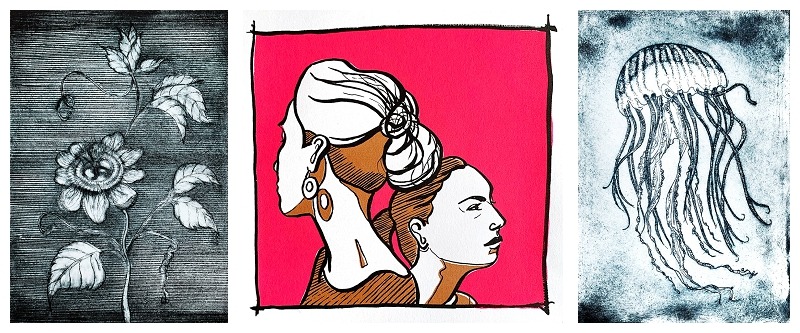 Aaah so as our Printmaking Term draws to a close on our Draw Atelier course, I thought I'd do a little round up of all the things we covered. We've had an intensive 12 week foundation in all methods of printmaking, under the expert guidance of our tutor Sue Haseltine – an absolute superstar artist, with the most patience in the world (needed for answering 12 million questions that we fired at her!) My fellow Atelier students and I were all pretty new to printmaking, but Sue led us carefully through the key processes of a variety of printmaking methods and now I have totally got the printing bug!!! All printmaking seems to involved a little bit of magic – something in the process that adds a bit extra to your initial drawings and ideas. Maybe a bit like photography? That might be why it really felt like it clicked for me.


We first covered monoprinting – a really interesting method that involves inking up a plate and then lying your paper down, drawing on the back of it until ta daaa you reveal your print. Next up was drypoint etching which I totally loved! It basically is drawing with a very sharp needle, then pushing ink into that drawing and printing from that plate. Our next step was into collagraph, which I admit was a hard sell to all of us – it's an interesting technique that involves layers and a lot of glue (and I mean a LOT of glue). I think I probably need to experiment a bit more with this!! Then we got a little bonus treat of a introduction to screenprinting – where I did my lovely vibrant pink girls. I absolutely LOVED this process, and a massive thank you to Dan at Tidy Print for offering us the opportunity to learn from him. Definitely want to try more of this. And last up (once Sue trusted us with sharp implements and the printing press) we did lino cuts – and again, I was hooked on this from the offset, it's a really satisfying process, and I've got lots of ideas to work on for future projects!
All in all, printmaking is blooming brilliant! It's a whole new way to work, and a whole new set of processes to learn and try to master. I really recommend if you've never tried printmaking, then get yourself along to one of Sue and Dan's fabulous classes – contact details as follows:
Sue Haseltine www.suehaseltine.com
Daniel Tomlinson www.danieltomlinsonillustration.com