About Me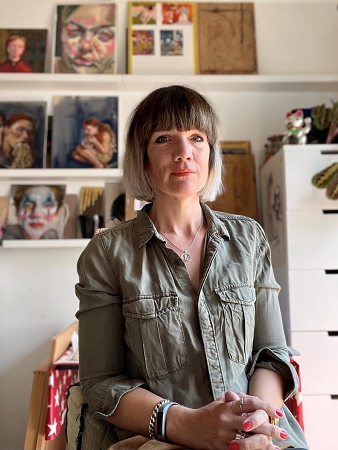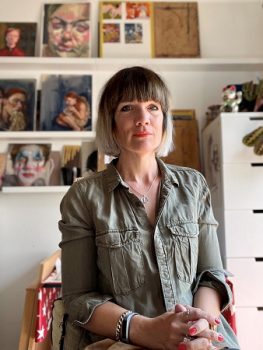 I'm a Brighton-based painter who predominantly focuses on portraiture. My work is led by strong colour, shape and impact. I work from both observation and photography, and am particularly drawn to representing women in my paintings. I work in oil, which is the perfect medium to explore that visceral feel to the study of flesh and faces.
I'm interested in the tension between the subject and the viewer, and am often drawn to a direct gaze – I enjoy that jolt, pushing how comfortable viewers feel. I'm striving to explore what feeds into a painting and what that painting feeds back to you. I want to get under the skin of the sitter and of the viewer.
My current work has various connected themes which weave into this – reflections on identity and an understanding of self; the faces we show vs the faces we hide; ageing and relevance. I'm influenced by female artists such as Jenny Saville, Helene Schjerfbeck and Chantal Joffe.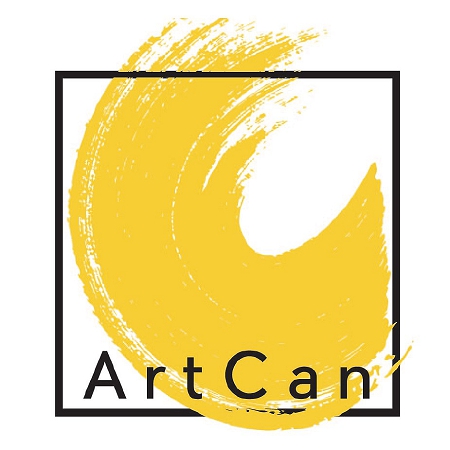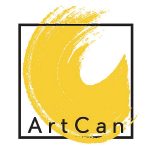 This year I participated in Series 10 of Sky Arts Portrait Artist of the Year (watch this space to find out how I did – it airs on Sky Arts in Autumn 2023). In November 2022 I had two paintings selected for the Ing Discerning Eye Exhibition. I am an alumni of the New Platform Art programme.
I am a proud member of ArtCan – an artist-led, non profit arts organisation which provides opportunities for artists through exhibitions and practise development. I also work at Draw Brighton as a life drawing session leader and run evening classes in Painting Portraits in Oils. I have run Life Drawing and drop in sessions for Roedean School, BHASVIC, Steyning Arts Festival and Ditchling Museum of Art & Craft.
I previously worked for over 12 years as a professional wedding photographer, photographing over 500 weddings (you can see my wedding website here).
EXHIBITIONS

Upcoming Exhibitions
2023 October – HOME at the Department Store, Brixton (ArtCan Group Show)
2023 November – SOLO EXHIBITION at The Grange Gallery, Rottingdean
2024 April – GROUP SHOW at the Regency Townhouse Gallery, Hove
Past Exhibitions
2023 August – FIGURES OF EIGHT presented by Bobcat Gallery (online)
2022 November – ELEMENTS – 4 person show at Regency Townhouse Gallery, Hove
2022 November – INGS DISCERNING EYE – 2 paintings selected
2022 October – SUSSEX CONTEMPORARY, Brighton i360 – 2 paintings selected
2022 September – LEGACY at The Crypt Gallery, London (ArtCan Group Show)
2022 July-Sept – Tutton & Youngs ATELIER OPEN, Brighton – 1 painting selected
2022 May-June – Fiveways Artists & Guests group show, St Augustine's Arts Centre, Brighton
2022 March – ABOUT FACE – Solo exhibition. The Grange Gallery, Rottingdean
2022 March – FRAMING OUR FUTURE, ArtCan Virtual Gallery
2022 Jan-Feb – WINTER, Kingsgate Project Space, London (ArtCan Group Show)
2021 Oct – Worthing Portrait Artist Exhibition, The Venue, Worthing
2021 July-Sept – Call & Response – St Augustine's Centre, Brighton